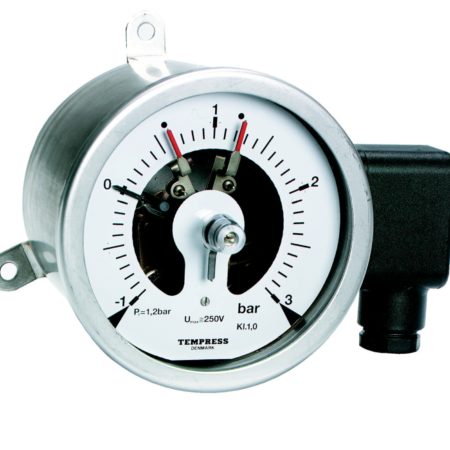 Đại lý Tempress Vietnam,Tempress SF6 Gas Density Monitor Tempress Vietnam
SF6 gas is extremely dangerous for the environment as it is up to 23,000 times more damaging than CO2. Therefore, extra care must be taken in monitoring gas leaks. Tempress offer instruments for this purpose. Tempress's Gas density switches have built in contact systems to help prevent gas leaks.
The gas density monitor is used where a specific density is needed to make a "stand alone" sealed system function according to the performance of the system. During installation and filling of the system the temperature of the gas and the instrument should be almost equal.
Practical use of the monitor:
Sealed pressurised casings for high voltage switchgear, high power transformers and submerge power and telecommunication cables filled with gas i.e. SF6-gas.
There is 03 type of SF6 gas monitor:
SF6 Gas Density Monitor, A60 w. Adjustable Contacts - Sheet No.: 1-991 GB

SF6 Gas Density Monitor, A60 w. Fixed Contacts- Sheet No.: 1-990 GB

SF6 Gas Density Monitor, DN63 - Sheet No.: 1-992 GB
Báo giá ngay - Hàng chính hãng - Bảo hành 12 tháng - Tư vấn hỗ trợ kỹ thuật 24/7