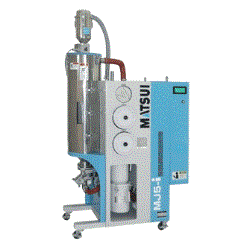 " iplas " is the name for a group of intelligent products developed by MATSUI with self-control functionality. Products equipped with " iplas " continuously monitor customer usage and automati- cally operate in the mode that offers maximum energy and resource efficiency. By controlling operation in response to usage characteristics̶for example, whether the system is being used for full capacity production, minimum mode production, or temporary holding of production " iplas " products are able to deliver significant energy and resource savings compared to their conventional counterparts. (Maximam energy saving onparing to the current product could be up to 75%)
1. A maximum energy reduction of 75% has been achieved!

Conventional equipment consumes the same amount of electricity, regardless of the size of the drying load. MJ5-i has achieved energy reduction by using only the most appropriate amount of electricity according to the size of the drying load.

2. Contributes to electricity conservation!

Since MJ5-i has a low exhaust gas temperature, air conditioning load is reduced, leading to further saving of electricity.

3. Shorter material replacement time!

By reducing the cleaning work during material replacement, a shorter time required for replacement is possible.

4. No more filter maintenance!

Load on the filter has been reduced by the standard installation of a cyclone vacuum type filter, greatly decreasing the frequency of filter maintenance. Daily maintenance consists of simply disposing of the resin powder in the dust box. Moreover, MJ5-i is designed so that the dust box can be removed and attached from the front.

5. Easy operation, no "Operations Manual" required

Required information, such as confirmation of individual settings and operation conditions, trouble- shooting, etc, can be uniformly managed by the controller. The touch panel is easy to use.