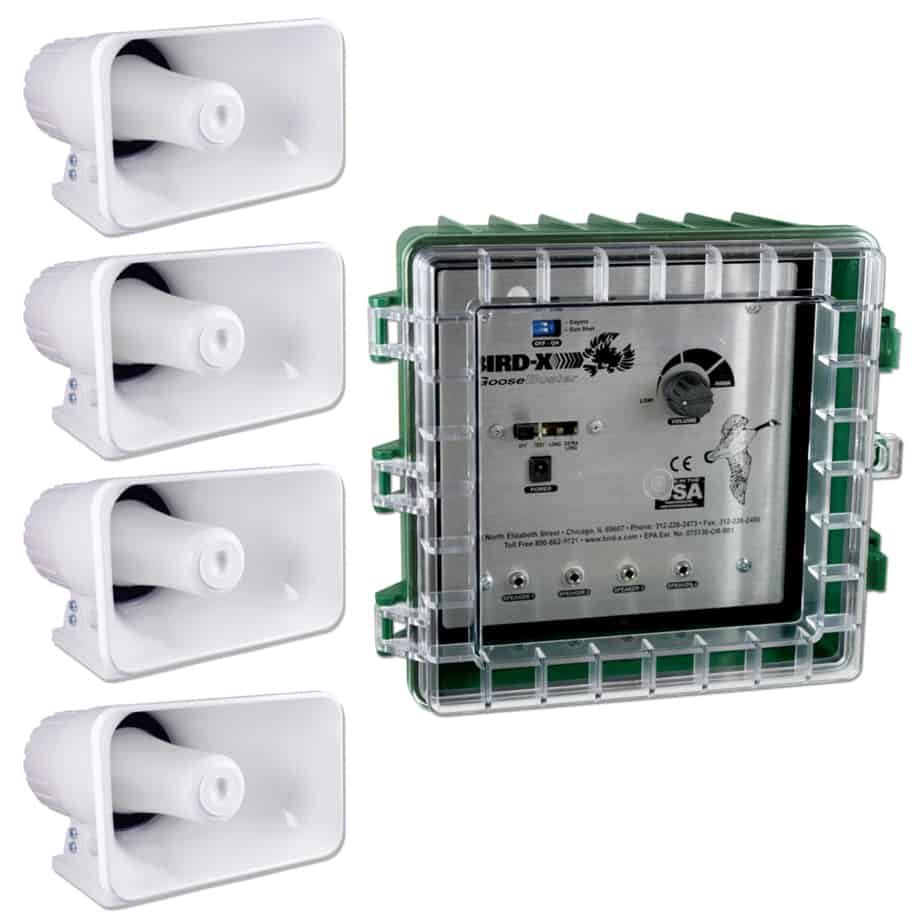 Repels the most stubborn Canada Geese from outdoor areas. The GooseBuster® is a one-of-a-kind system was developed using decades of scientific research involving the behaviors and vocal communications of Canada geese. The scientifically-proven GooseBuster® broadcasts authentic Canada goose sounds; the alert call lets geese know there is potential for trouble and the alarm call signifies immediate danger. Because the GooseBuster® is programmed to constantly change frequency, duration, and sound combinations – geese feel under threat and evacuate the area without identifying the source.
Sonic recordings make areas uninhabitable for geese
4-speaker system covers up to 7 acres
Geese learn not to return through behavior modification
Includes installation consultation
30 Day Electronics Performance Satisfaction Guarantee
The four-speaker GooseBuster® covers a range of 7 acres, and can be combined with another unit to cover up to 21 acres. The unit is fully programmable and has optional coyote bark and gunshot sounds. Its weather resistant control box is designed to withstand outdoor use.
Since 1979, Dr. Philip Whitford has been studying Canada goose behavior and vocal communications; he also has obtained the only documented recording, anywhere, of the alarm call of Canada geese. He holds a PhD in biological sciences in the field of animal behavior, as well as BS and MS degrees in wildlife management. Numerous university-conducted studies have shown the unique effectiveness of the GooseBuster® PRO in preventing areas from being overtaken.