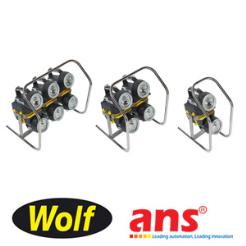 Wolf Safety Vietnam ATEX Zone 0 Flood Bank đèn chiếu sáng LED
Price: Contact
Category: Others
Gọi lại cho tôi
Contact consultant
Product Code : ATEX Zone 0 Flood Bank
ANS Vietnam hân hạnh cung cấp Wolf Safety ATEX Zone 0 Flood Bank
Portable LED temporary floodlighting solution for hazardous area workers in areas where extreme hazards may be present in flammable concentrations.
The ATEX Zone 0 Flood Bank exploits the excellent performance and reliability of the renowned and proven Wolflite XT Rechargeable Zone 0 LED (XT-75) Handlamps to deliver collectively, within a stand, a flood of outstanding illumination, of up to 2,100 lumens, to a Zone 0 hazardous task area.

The stands can be placed on level ground or mounted on a tripod to elevate, direct and focus the light to the desired task working area and the 'snap-in/snatch-out' handlamp holders allow for quick release, secure retention and manual tilting. Whilst delivering excellent light output, the flood banks are also lightweight and using the integrated handle easily transportable.
Features and Benefits
- ATEX and IECEx certified for use in Zone 0, 1 and 2
- Incorporates Wolflite XT Zone 0 Handlamps (XT-75)
- Ultra bright high power LED light up to 2,100 lumens
- Configuration of 2, 4 or 6 handlamps per bank
- Mountable on tripod or positioned at ground level
- Spot and flood switchable beam options
- Up to 6 hrs (full power) / 12 hrs (powersave) duration
- Built in state of charge indication for each lamp
- IP67 dust and watertight
- Chargers required and to be charged in safe area only
For added flexibility, the handlamps can be removed from the stand in the Zone 0 hazardous area and used for close inspection work or in awkward to reach locations, plus the Flood Bank can act as an emergency backup light source independent of lead powered lighting.