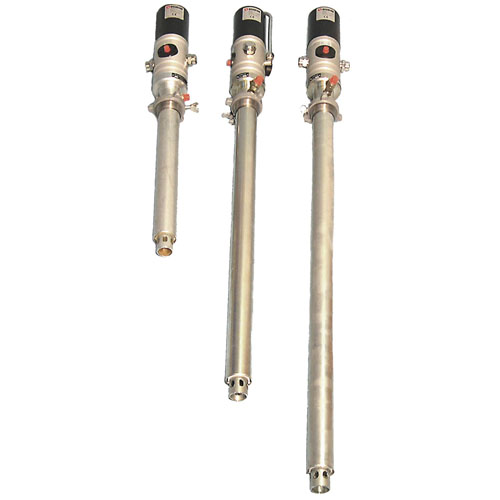 Bơm mỡ 0102095 Assalub
Price: Contact
Brand: Assalub
Category: Thiết bị dây chuyền sản xuất
Supplier: ANS Vietnam
Origin: 100% EU Origin
Ứng dụng sản phẩm: Automotive
Gọi lại cho tôi
Contact consultant

HotLine

support@ansgroup.asia

0911472255

0911472255
Assalub Vietnam,Bơm mỡ 0102095 Assalub
1:65 ratio air-operated grease pump
For pail, 1/4-drum or 1/1-drum, with drum bung fitting for lid mounting. The grease pump can be equipped with a special follower plate for almost completely emptying the grease barrel. The pump, when used with automatic centralized dual-line lubrication systems, is equipped with a return line connection to return grease to the barrel below the follower plate. This type of system is common in e.g. paper, pulp, steel, and cement mills, mines, and power stations etc.
Capacity:

1,200 g/min

Air pressure, min-max:

0.3-1 MPa/43-150 psi

Air consumption:

See ?!?!?!

Grease pressure:

52 MPa (7,500 psi)
at 0.8 MPa air pressure

Grease supply outlet:

ISO-G1/4 swivel male

Grease return inlet:

Plugged tube fitting for dia. 12 mm

Air connection:

ISO-G1/4 female

Pump tube diameter:

50 mm

Material:

Anodized aluminium, tempered
and stainless steel, brass
and plastic

Seals:

Polyurethane

For 16-20 kg pail

Part Number: 0102095

Total height:

800 mm

Pump tube length:

400 mm

Weight:

9.0 kg

For 1/4-drum

Part Number: 0102094

Total height:

1,115 mm

Pump tube length:

700 mm

Weight:

11.5 kg

For 1/1-drum:

Part Number: 0102093

Total height:

1,305 mm

Pump tube length:

890 mm

Weight:

13.0 kg
It is virtually impossible to empty a grease drum completely by means of a conventional pump and follower plate. Our pumping innovation is the "Totally Empty Concept". It challenges conventional construction because the pump is supported on a floating follower plate. This follower plate/pump construction is designed as a completely closed grease handling system to empty a grease barrel. Only the grease remaining under the curved follower plate (circa 1.5-1.9 kg in a 180/200 kg drum) is left in the barrel. The pump and follower plate fall with grease level due to the weight and the vibration caused by the pump, in combination with the vacuum that arises under the follower plate preventing the plate from sticking in the drum. See fig. 1.
When the drum is empty, the follower plate rests hard against the bottom of the drum and must be released by means of compressed air via the airgun (Part Number 902947). See fig. 2.
In addition the pump when used with a centralised lubrication system is designed with a return line connection to return grease to the barrel below the follower plate.

Type of Pump

16-20 kg pail

1/4-drum

1/1-drum

1:65 w. grease return

0102095

0102094

0102093

1:6

-

0102100

0102100

Drum lid

0102019

0102111

0102110

Follower plate

0102202

0102142

0102116

Grease pump with ratio 1:65

Pump type:

0102090-0102095

Grease:

NLGI 2

Temperature:

20 °C

Example (marked with red in the diagram):
At 6 bar air pressure and 205 bar back pressure, the pump will need 8 litres air per second and feed 800 gram grease per minute.
100% EU
Origin

Assalub Vietnam
Liên hệ & Báo giá chi tiết:
Sale ANS Vietnam:
thuyho@ansgroup.asia
Trực tiếp FaceBook
Trực tiếp Zalo: 0783698645
=====================================================
Click xem thêm ứng dụng sản phẩm khác
Đại lý phân phối chính hãng tại Vietnam
Báo giá ngay – Hàng chính hãng – Bảo hành 12 tháng – Tư vấn hỗ trợ kỹ thuật 24/7
Xem thêm sản phẩm hãng Assalub tại đây
Xem thêm thông tin về thương hiệu khác tại đây
Xem thêm sản phẩm khác tại đây