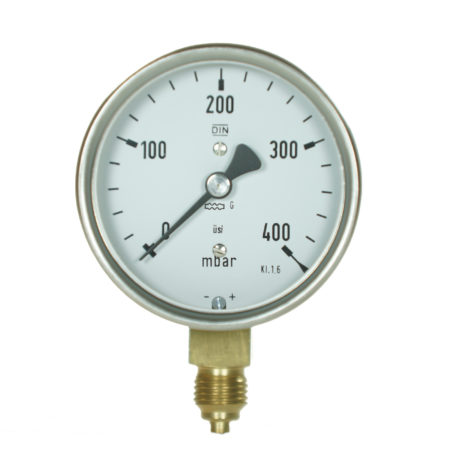 Đại lý Tempress Vietnam,Tempress Level Measuring products P1120 Vietnam
If you want to measure level of a media, you can do so using either a mechanical pressure gauge with a customized dial with a level scale, or use our Transmitters.
TEMPRESS A/S has a comprehensive product range developed and produced by highly qualified employees. The product range is built up by a modular system resulting in a very high degree of flexibility. This, combined with a large stock both at TEMPRESS A/S and its net of agents and whole sales, guarantees fast delivery.
As a long-standing manufacturer of instrumentation the TEMPRESS brand is a guarantee of products which fully live up to the demands of industry in terms of reliability and accurate measurement. TEMPRESS A/S is ISO 9001 certified and operates in accordance with the concept: professional advice, production of quality products and fast precise delivery.
You can find all our flow measuring devices below.
Capsule gauges – low pressure P1120

Differential pressure gauge – MK5 Type A20

Differential Pressure Transmitter – Heavy duty Type: HD10 , HD00

ATEX/DNV Pressure Transmitter FAP600/ FAP610 Series

Low Pressure gauge TYPE A10

Magnetic level indicator EF series : EFB-2540, EFB-2600, EFB-2560, EFB-2580, EFB-2620, EFB-2630, EFB-2592, EFB-2654, EFB-0700, EFB-0740, EFA-2111, EFA-2120, EFA-2130, EFA-2140, EFB-1220, EFB 1230, EFB-1250/ EFB-1260, EFB-1300/ EFB-1310, EFB-1400, EFB-1410, EFB-1420, EFB-1430, EFB-1440, EFB-1450, FGAG, FGCG, FGAK4, FGAK7, FGAK8, FGAK4, FGAK7, FGAK8, FGAN4, FGAN7, FGAN8, FGAX4, FGAX7, FGAX8, FGCK4, FGCK7, FGCK8, FGCK4, FGCK7, FGCK8, FGCN4, FGCN7, FGCN8, FGCX4, FGCX7, FGCX8
Pressure Transmitter – Heavy duty Type: HP00, HP01, HP02, HP10, HP11, HP12
Stainless steel Pressure gauge – Direct mounted Type A1203

Standard Pressure gauge TYPE A10
Báo giá ngay - Hàng chính hãng - Bảo hành 12 tháng - Tư vấn hỗ trợ kỹ thuật 24/7