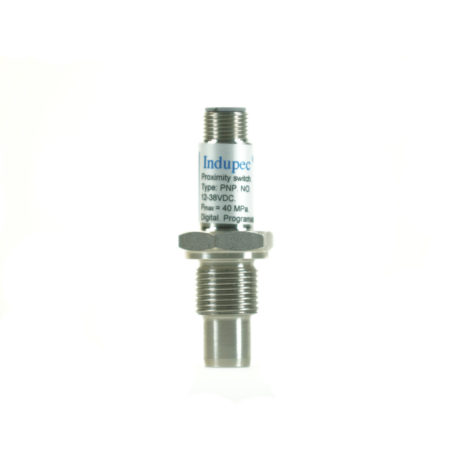 Đại lý Tempress Vietnam,Tempress Proximity Sensors PNP Tempress Vietnam
Proximity sensors are beneficial for companies working with manufacturing and design. Sensors should be precise and effective. Proximity measuring systems are paramount when a production should stay on schedule and budget. Therefore, we at Tempress has developed our own inductive sensor – the Indupec.
Hydraulic cylinder position sensor – Indupec®
The Indupec® system is a new concept, developed for electronic detection of the piston end position in a hydraulic cylinder.
The sensor and the electronics are developed especially for the marine use and therefore satisfy most of the requirements mentioned in "Specified approval recommendations".
Indupec® system is designed to detect a metallic unit that passes along the surface.
The special way of detection enables the Indupec® system to detect linear movements of the piston in a cylinder, and, moreover, enables the system to detect the position within a very narrow band.
Its action makes the Indupec® system suitable for all use in hydraulic cylinders with integrated ball-lock.
The Indupec® system satisfied surveillance requirements for bow port locking / opening on car and RO-RO ferries as it is considered in the proposed draft: SOLAS amendments (IACS's Unified Requirements and Survey Checklist) as well as the requirements state in the Ships Rules of Det Norske Veritas and Lloyds' Register and American Bureau of Shipping.
The Indupec® sensor itself is designed to ensure a high degree of safety. The Static design pressure (MAOP) is 40 MPa ~ (400 bar) with a safety factor of 1.5. The dynamic pressure is 30 MPa.
The external design has a very robust and low profile, making it almost impossible to damage. Nevertheless, in case The Indupec® sensor is exposed to mechanical distortion, i.e. impulse/impact of heavy weight, and in case the housing occasionally should be removed by force, the detector will no leak, but will brake outside the casting and gasket in the oil port.
Tempress Indupec Proximity Sensors product list:
Indupec-digital - inductive sensor PNP

Indupec – Namur

Indupec – Programming box 6-402 GB
Báo giá ngay - Hàng chính hãng - Bảo hành 12 tháng - Tư vấn hỗ trợ kỹ thuật 24/7