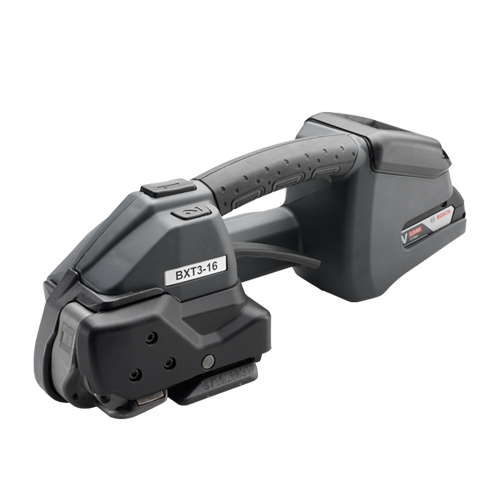 Dụng cụ đóng đai BXT3-16 SIGNODE
Price: Contact
Brand: SIGNODE
Category: Máy móc & Hệ thống
Supplier: ANS Vietnam
Origin:
Ứng dụng sản phẩm: Automotive
Gọi lại cho tôi
Contact consultant

Thúy Hồ

thuyho@ansgroup.asia

0783 698 645

markthuy4993@gmail.com
SIGNODE Vietnam,Dụng cụ đóng đai BXT3-16 SIGNODE
BXT3-16 Battery Powered Hand Tool
The Signode BXT3-16 Battery Powered Strapping Tool
The latest generation of BXT tools have been designed in collaboration with some of the most demanding manufacturing plants across Europe, ensuring that the BXT3 strapping hand tool consistently offers industry leading performance. The innovative integrated touch screen allows users to easily change tool settings to suit their specific requirements whilst the display also provides an indication of the tension force being applied as well as strap cycle completion.
The BXT3-16 strapping tool is specifically designed for light duty strapping applications for use with 12/13mm or 15/16mm Signode Tenax® polyester and Signode Dylastic® polypropylene strapping. The BXT3-16 is capable of variable tensioning speeds of up to 220mm/s, which has been proven to increase production uptime.
---
Features and Benefits
Quickly access your favourite strapping function

Variable tension speed controlled by finger pressure

Strap dust blow out vent

Lightweight, ergonomic protective design with new battery cover to increase longevity

Fewer wear parts make it economical to maintain

Improved performance offers up 800 cycles per charge

Lock feature to ensure consistent resultsTechnical Specifications
| | |
| --- | --- |
| Strap width | 13 - 16mm |
| Machine type | Battery Powered Hand Tool |
| Hand Tool Weight | 3.8kg |
| Hand Tool Dimensions | 370 x 141 x 135mm |
| Tensioning Speed | Up to 220mm/s |
| Strap Tension, Standard | 900 - 2,500N |
| Strap Tension, Soft | 400 - 1,360N |
| Cycles per Charge | Up to 800 |
| Charge Time | 25 - 30min |
| Battery Supplied | Bosch Li-Ion 18V, 2.0Ah |
List code sản phẩm
Origin

Brand

Code

100% SWITZERLAND Origin

SIGNODE
VIETNAM

BXT3-16
Strapping tool
Operation mode: auto / semi / manual
Variable tension speed range: 0–220 mm/s (8.6 in/s)
Relative humidity up to 90%
Working temperature -10 °C to +40 °C (14–104 °F)

100% INDIA Origin

SIGNODE Vietnam

M410N-114-EHT3-1H-A
Rotating Eye
strapping machine for hot application includes
- Base Frame with Retraction,
- DPAM 1000 dispenser for 450 Kg steel strap coil.
- Pneumatics system with quick disconnect manifold block for strapping head.
- Electricals with S7 1500 PLC (Non Fail Safe PLC) with 9' HMI.
- PN / PN Coupler for interface with customers PLC

100% KOREA Origin

SIGNODE
Vietnam

32080 BW SJS(CSP 880)
Signode Straps
- Packing Band/Seal BAND,OTHERS,SUP120-BLUE,0.8TX32W,[SUP120_GRADE/HANKUM],+120KG/MM2, TOLERANCE: THICKNESS: + 0.05/-0.03,WIDTH: +/- 0.127
- OR [MAGNUS-1431 MPW/SIGNODE],+0.79MM +0.05/-0.025
- Or [CSP880/SAM HWAN],+95 KG/MM2, 420-450 KG/ROLL

100% KOREA Origin

SIGNODE
Vietnam

32090 BW SJW(GRADE SAE1022)
Signode Straps
Dâyđai đóng bao độ cứng caoUSSG#21 0.89mmx31.8mmW Độbềnkéo>840(N/mm2),Độ giãn dài>6.5%-12% Sơn màu xanh,làm sạch bavia
material(鋼帶材質)
Tiêu chuẩn chất lượng carbon steel(碳鋼)
Strap Width(鋼帶寬度)
Tiêu chuẩn chất lượng 31.75±0.13mm
Strap thickness(鋼帶厚度)
Tiêu chuẩn chất lượng 0.89±0.05mm
Surface treatment(表面處理 )
Tiêu chuẩn chất lượng Blue and Waxed,deburred edges(藍化處理上蠟,需修毛邊,單捲不允許有鋼帶對焊接帶)
Camber (max/2.4m)((偏曲量(max/2.4m))
Tiêu chuẩn chất lượng <12 mm
Tiwst (max/2.4m)(扭曲量(max/2.4m)
Tiêu chuẩn chất lượng 20°
Min Tensile strength (最小抗拉強度)
Tên quy cách 抗拉強度依照ASTM D3953進行測試(鋼帶直接取樣進行拉伸試驗)
Min Tensile strength (最小抗拉強度)
Tên quy cách 未符合其中規範標準,由買方依照檢驗規範研判是否允收轉用(需折讓35%金額),允收條件:抗拉強度>670(N/mm²)
Elong.(GL=152mm)(伸長率(GL152mm))
Tên quy cách 延伸率GL=152mm按照ASTM D3953進行測試(鋼帶直接取樣進行拉伸試驗)
Elong.(GL=152mm)(伸長率(GL152mm))
Tên quy cách 未符合其中規範標準,由買方依照檢驗規範研判是否允收轉用(需折讓35%金額),允收條件:延伸率(GL=152):0.5-12%
Tên quy cách Strap Coil Outside diameter(鋼帶盤元外徑)
Tiêu chuẩn chất lượng 800-900mm
Strap Coil Inside diameter(鋼帶盤元內徑)
Tiêu chuẩn chất lượng 370-500mm
Strap Coil Height(鋼帶盤元高度)
Tiêu chuẩn chất lượng 150-300mm
Strap Coil weight(鋼帶盤元重量)
Tiêu chuẩn chất lượng 400-460KG
Mechanical properties(機械性質)
Tiêu chuẩn chất lượng High strength and toughness (高強韌鋼帶)
Certificate of Origin and material(提供產地證明及材質證明)
Test report(出廠測試報告)
Tiêu chuẩn chất lượng Material(材料)、stretching test(拉伸試驗)、dimension(尺寸)
In 5-7 days after quote the seller are need to provide samples (12 pieces, 500mm L / 1 piece) to the FHS for test the tensile strength

100% USA Origin

SIGNODE
Vietnam

Pneumac combinaon toolfor steel strapping
Model: PNSC2-58

100% USA/Thailand Origin

Signode
Vietnam

SEAL VALVE SLEEVE
(Spare parts of VTI19/25 pneumatic friction weld sealer)
Part no: 423964

100% USA/Thailand Origin

Signode
Vietnam

SEAL MOTOR ASSY
(Spare parts of VTI19/25 pneumatic friction weld sealer)
Part no: 423980

100% USA/Thailand Origin

Signode
Vietnam

FRAME
(Spare parts of VTI19/25 pneumatic friction weld sealer)
Part no: 427986

100% USA/Thailand Origin

Signode
Vietnam

UPPER WELD GRIPPER
(Spare parts of VTI19/25 pneumatic friction weld sealer)
Part no: 427989

100% USA/Thailand Origin

Signode
Vietnam

LOWER WELD GRIPPER MACH
(Spare parts of VTI19/25 pneumatic friction weld sealer)
Part no: 424482

100% KOREA Origin

SIGNODE
Vietnam

Steel strap
• ITEM : 0.8X32
• GRADE : SAE1022
• SURFACE : BLUE & WAXED
• ROLL TYPE: JUMBO
Technical Requirements:
• Tensile strength (TS) - Quality standard > 840 MPa = 840 N/mm2 (~ 84 kg/mm2)
• Elongation rate - Quality standard 6.5 - 12%
• Surface treatment - Quality standard (blue and waxed) with oxidation treatment, not using welding method to connect steel wire
• Inner radius for a roll: 406 mm
• Outside radius for a roll: 630mm
• Width for a roll: 150mm -190mm (each roll has the smallest width: 150mm, the largest width is 190mm)
• Certificates of Origin and manufacturer's other documents regarding the testing report,..

100% THAILAND Origin

SIGNODE
Vietnam

P/N: 423412
PIVOT SHAFT
SPARE OF PRHR-114

100% Switzerland Origin

Signode
Vietnam

Battery Powered Tool for steel strapping
Model: BPT-L19

100% Thailand Origin

Signode
Vietnam

Seal valve stem (key: 33)
Parts for Strapping Tool
Part no: 423947

100% Thailand Origin

Signode
Vietnam

Check valve ASSY
Parts for Strapping Tool
Part no: 424376

100% Thailand Origin

Signode
Vietnam

Battery-powered tool for plastic strapping 16-19mm
Model: BXT3-19

100% THAILAND /USA Origin

SIGNODE Vietnam

Part Number 1821.047.037
Tensioning wheel for SIGNODE strapping tools (BXT3-19)

100% THAILAND /USA Origin

SIGNODE Vietnam

Part Number 1821.209.041
Knife for SIGNODE strapping tools (BXT3-19)

100% THAILAND /USA Origin

SIGNODE Vietnam

Part Number 1821.048.031
Tooth plate for SIGNODE strapping tools (BXT3-19)

100% THAILAND /USA Origin

SIGNODE Vietnam

Part Number 1832.011.317
LCD operating unit for SIGNODE strapping tools (BXT3-19)

100% THAILAND /USA Origin

SIGNODE Vietnam

Part Number 1821.035.011
Bolt for SIGNODE strapping tools (BXT3-19)

100% THAILAND /USA Origin

SIGNODE Vietnam

Part Number 1933.210.120
Needle bearing for SIGNODE strapping tools (BXT3-19)

100% USA/India Origin

SIGNODE
Vietnam

M410N-114-EHT3-1H-A
Rotating Eye strapping machine for hot application includes
- Base Frame with Retraction,
- DPAM 1000 dispenser for 450 Kg steel strap coil.
- Pneumatics system with quick disconnect manifold block for strapping head.
- Electricals with S7 1500 PLC (Non Fail Safe PLC) with 9' HMI.

100% Thailand Origin

SIGNODE
Vietnam

Model RCD-1431
Heavy-Duty Sealers Side-Action

100% Thailand Origin

SIGNODE
Vietnam

Model TH-114
Feedwheel Tensioners
Liên hệ & Báo giá chi tiết:
Sale ANS Vietnam:
thuyho@ansgroup.asia
Trực tiếp FaceBook
Trực tiếp Zalo: 0783698645