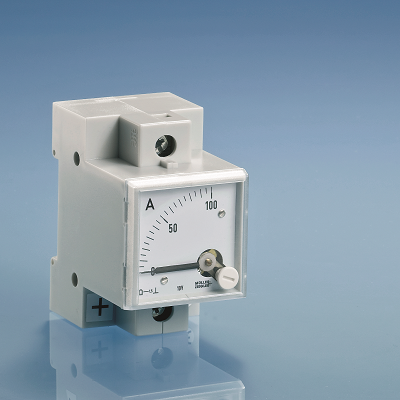 Measuring instruments for DIN rail mounting WAS 45 Muller Ziegler Vietnam
Application
Snap-on measuring instruments are mainly used for measuring heavy-current quantities in distribution boards. They allow for snap-on fastening on top hat rails.
Measuring systems
Moving-coil measuring system

Moving-iron measuring system
Special features
Standard front dimension, 45 x 45 mm

Slim design, 2.5 module widths

Quadrant scale, 43 mm scale length

Contact-proof connecting terminals
General specifications
Snap-on measuring instruments are manufactured according to DIN 60 051 as well as according to the other relevant VDE and DIN regulations. The following variables may be measured: Direct current, direct voltage, alternating current, alternating voltage, operating hours. The accuracy amounts to 1.5 % referred to the full scale. Standard-type moving-iron ammeters dispose of a 2-fold overload scale.
All measuring instruments are resistant to a permanent 1.2-fold overload, ammeters temporarily to a max. 10-fold overload, voltmeters to an up to 2-fold overload. For the rest, DIN EN 60 051 applies. The measuring elements are mounted in an shock-resistant housing from polycarbonate. The housing dimensions comply with DIN 43 880 for built-in equipment for electrical installations. Connection is made to touch-proof captive M5 screws, max. 10 mm².
Special versions
Mounting on vertical top hat rail

Measuring range Without overload range (moving-iron measuring instrument)

Outside of the standard series

Scales Red point at any position of scale

Colored sector at any position of scale
Mueller+Ziegler Measuring instruments for DIN rail mounting- Product list
| | | |
| --- | --- | --- |
| Product ranges | Type | Description |
| Moving iron measuring instruments | WAS 45 | Moving iron measuring instruments for alternating current and alternating voltage |
| | PAS 45 | Moving coil measuring instruments for direct current and direct voltage |
ANS là đại lý phân phối chính hãng Mueller Ziegler VietNam chuyên cung cấp sản phẩm Mueller Ziegler
Báo giá ngay - Hàng chính hãng Germany - Bảo hành 12 tháng - Tư vấn hỗ trợ kỹ thuật 24/7