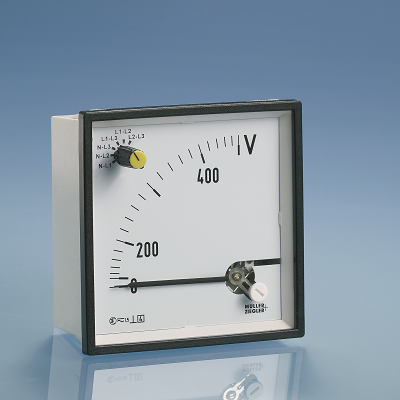 Analog panel meter NW 72 Muller Ziegler Vietnam
For precise control at the heart of the action!
With our analog measuring instruments for control panel installation you have a wide choice of housing dimensions for all standard control panel cut-outs.
All electrical variables can be measured, e.g. alternating/direct current, power, power factor and frequency. The instruments are also available with switching contacts as limit monitors. A wide range of special designs can also be realised without problem by our production facilities in Gunzenhausen. Fault transmitters, operating hour meters and phase sequence indicators round out the product range.
Mueller+Ziegler Analog Panel meter - Product list
Products ranges

Type

Description

Moving iron measuring instruments.

NW 72, NW 96, WQ 48 DIN, WQ 72 DIN, WQ 96 DIN, WQ 144 DIN

Moving iron measuring instruments for alternating current and alternating voltage

NW 72 SU

NW 96 SU

Moving iron measuring instruments for alternating voltage with in-built measuring point selector switch

SUAS 45/7

Voltmeter selector switch

Moving coil measuring instruments

NP 72

NP 96

PQ 48 DIN

PQ 72 DIN

PQ 96 DIN

PQ 144 DIN

Moving coil measuring instruments for direct current/ voltage

PK 48 DIN

PK 72 DIN

PK 96 DIN

PK 144 DIN

Moving coil measuring instruments for direct current / voltage PK series

P 48 x 24

P 72 x 24

P 96 x 24

P 144 x 36

Moving coil measuring instruments for direct current / voltage P Series

NPG 72

NPG 96

PGQ 48 DIN

PGQ 72 DIN

PGQ 96 DIN

PGQ 144 DIN

Moving coil measuring instruments with rectifier for direct current and direct voltage

PKG 48 DIN

PKG 72 DIN

PKG 96 DIN

PKG 144 DIN

PG 48 x 24

PG72 x 24

PG96 x 24

PG144 x 36

Moving coil measuring instruments with rectifier for direct current and direct voltage

Bimetallic measuring instruments

NW 72, NW 96, WQ 48 DIN, WQ 72 DIN, WQ 96 DIN, WQ 144 DIN

Bimetallic measuring instruments with drag indicator (for measuring maximum current)

NM 48, NM 72, NM 96, MQ 72 DIN, MQ 96 DIN, MQ 144 DIN

NMW 72. NMW 96, MWQ 72 DIN, MWQ 96 DIN, MWQ 144 DIN

Bimetallic measuring instruments with drag indicator combined with moving iron ammeter (for measuring maximum and instantaneous current)

Limit monitors

WQ 96 DIN, WQ 96 DIN, WQ 144 DIN, WQ 144 DIN

Limit monitors for alternating current and alternating voltage

PQ 96 DIN, PQ 96 DIN, PQ144 DIN, PQ 144 DIN

Limit monitors for direct current/ voltage

Power meters

DWQ 96 DIN, DWQ 96 nz DIN, DWQ 96 d DIN, DWQ 96 z DIN, DWQ 96 dr DIN, DWQB 96 DIN, DWQB 96 nz DIN, DWQB 96 d DI, DWQB 96 z DIN, DWQB 96 dr DIN

Electronic power meters for alternating and three-phase current

Power factor measuring devices

LWQ 72 DIN, LWQ 96 DIN, LWQ 72 nz DIN, LWQ 96 nz DIN

Electronic power meters for alternating and three-phase current

Frequency meters

F 72 DIN, F 96 DIN, F 144 DIN, FZQ 72 DIN, FZQ 96 DIN, FZQ 144 DIN

Frequency meters – vibrating-reed frequency meter

Fault transmitters

SM8

SM16

Fault annunciators 96 x 96

Other analog panel meters

SZ 48, SZ 72 DIN, SZ 96 DIN

SZ 48 Gs, SZ 72 Gs DIN, SZ 96 Gs DIN

Operating hours meter for alternating and direct current

NDR 72

NDR 96

Phase sequence indicators

PI 24, PI 25, PI 29, PI 36 (24-230 V DC), PIR 24, PIR 25, PIR 29, PIR 36 (24-230 V AC)

Switch position indicators
ANS là đại lý phân phối chính hãng Mueller Ziegler VietNam chuyên cung cấp sản phẩm Mueller Ziegler
Báo giá ngay - Hàng chính hãng Germany - Bảo hành 12 tháng - Tư vấn hỗ trợ kỹ thuật 24/7