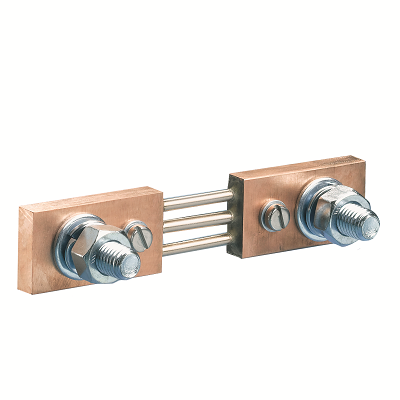 Class 0.5 according to DIN EN 60 051 Muller Ziegler Vietnam
Making it possible to measure high direct currents! !
Shunts are used to extend measuring ranges and to supply a current-dependent voltage drop, e.g. for electronic post-processing of direct currents.
Shunts are normally manufactured to an accuracy class of 0.5; higher accuracies are also possible (0.2 or 0.1).
Here, too, on-site manufacturing brings with it significant benefits. With our special designs we are able to meet nearly all customer requirements.
Application
Shunts are used for expanding the measuring range of moving-coil measuring devices as well as for generating a current-dependent voltage drop, e.g. for electronic further processing.
Function
Shunts are manufactured according to DIN 43 703 and DIN EN 60 051. The accuracy amounts to 0.5 % referred to the nominal value.
Special options may achieve an even higher accuracy of 0.2 % or 0.1 %.
Shunts up to 25 A are mounted on insulating bases. Such bases are suited for top hat rail mounting or screw fastening.
The potential screws have an M5 thread. Connector copper and restistor material (manganin) are hard-soldered with silver solder.
Special models
Adjustment of leak resistances at shunt

Differing rated current and/or voltage drop on request

Shunt cover cap with insulating base for top hat rail mounting or screw fixing

up to 25 A for Voltage drop 60 mV, 100 mV and 150 mV

from 25 A to 150 A for Voltage drop 60 mV
Mueller+Ziegler Shunts - Product list :
Form A –flat copper

Form B – L copper

Form C – T copper
Rate Currents:
10 (with insulating base)

15 (with insulating base)

25 (with insulating base)

40

60

100

150

200

250

300

400

500

600

800

1000

1200

1500

2000

2500

3000

4000

5000

6000

7000

8000

10000

12000

15000

20000
ANS là đại lý phân phối chính hãng Mueller Ziegler VietNam chuyên cung cấp sản phẩm Mueller Ziegler
Báo giá ngay - Hàng chính hãng Germany - Bảo hành 12 tháng - Tư vấn hỗ trợ kỹ thuật 24/7