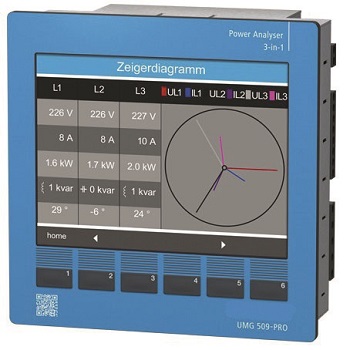 Universal measuring devices UMG 103 Muller Ziegler Vietnam
Perfect network monitoring and control of network quality to required standards!
The first step in improving operating processes is to measure, monitor and determine the most important electrical energy supply parameters. Here our UMG product range of universal measuring devices offers a complete range of network monitoring tools together with the required accessories.
These devices help give a complete overview of the energy supply, set limit values and warn when these are exceeded. In addition, the network quality is monitored in accordance with generally applicable standards (e.g. EN 50160).
Mueller+Ziegler Universal measuring devices- Product list
No

Type

Description

1

UMG 103

Universal measuring instrument for DIN rail

2

UMG 104

Power analyser forDIN rail

3

UMG 20 CM

Differential current (RCM) and energy data measuring device

4

UMG 604

High-power network analyser

5

UMG 605

Power quality analyser for DIN rail

6

UMG 96L/ UMG 96

Universal measuring device

7

UMG 96RM-E

Multi-function network analyser

8

UMG 96RM

Multi-function network analyser

9

UMG 508

Multi-function network analyser

10

UMG 509

Multi-function network analyser with RCM

11

UMG 511

Class A power quality analyser

12

UMG 512

Class A power quality analyser with RCM

13

DIRIS A10

Multi-function measuring

device
ANS là đại lý phân phối chính hãng Mueller Ziegler VietNam chuyên cung cấp sản phẩm Mueller Ziegler
Báo giá ngay - Hàng chính hãng Germany - Bảo hành 12 tháng - Tư vấn hỗ trợ kỹ thuật 24/7