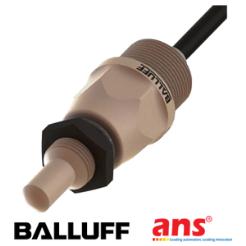 MicroLEVEL Redesign − New generation of level detection

The new MicroLEVEL series of sensors is now available.
Improvements in the new version:
• New PEEK housing
• Greatly improved chemical resistance
• One-piece construction in product-contacting area for improved sealing
• IP 68 /10 bar
• IP 67 at cable entry
• 20-turn potentiometer for easy setting
• Standard version for granulates and oils
• SMARTLEVEL for conductive media
• Chemically resistant PEEK housing
• Cable and M8 pigtail
• Flange threads M12x1 / G¼ or NPT¼
• Reverse threading for M18x1 pipe mounting
• Output switching function can be selected PNP / NPN / N.O. / N.C.
Standard version for granulates, powders and oils
• Product-contacting installation
• Pressure rated up to 10 bar
• Self-sealing NPT thread available
• Reverse M18 thread for pipe mounting, enables
use of rod probes of any length
Applications:
• Granulates, powders
• Wood or feed pellets
• Oils
• Non-conducting liquids
SMARTLEVEL version for liquid, conductive media
• Product-contacting
• Pressure rated up to 10 bar
• Self-sealing NPT thread available
• Reverse M18 thread for pipe mounting, enables
use of rod probes of any length
Applications:
•Aqueous media
•Acids and bases
• Foaming liquids
• Adhering liquids
Models:
BCS0105
BCS0106
BCS0107
BCS0108
BCS0109
BCS010A
BCS010C
BCS010E
BCS010F
BCS010H
BCS010J
BCS010K