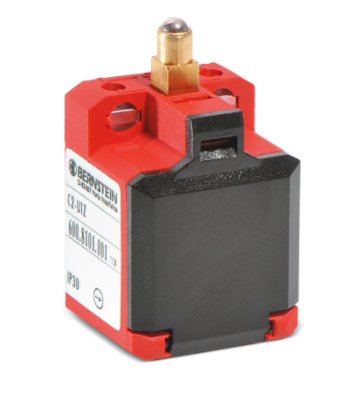 Our electromechanic switches are characterized by a convincing price-performance ratio and by a high reliability at different stages of voltage.
The products range from plastic-bodied limit switches, metal-bodied limit switches and foot switches to safety switching devices. The AS-i compatible switches reduce time and costs in reference with the assembly, the materials and the operation.
A vast range of types, sizes, switching functions and actuators allow nearly every application.
Position Switches and Safety Switches: C2, Ti2, I49, Bi2,IN62, IN65, I81, IN73, SGS, ENK Series

Switches with separate actuator: SKT, SKI, SK, SKC Series

Switches with guard locking: SLC, SLK, BF Series

Switches for hinged applications: SHS3, SHS, Ti2 / I88, AHDB, I88 / GC, VKS / VKW Series

Contactless Safety Technology: SRF RFID Series

Foot Switches: F1, F1, F3, F10, F40, KFM1, KFM2 Series

Rope Pull Switches: SGC, SIGC, SD, SID, SEK, SIEK, SEM2,SIEM2, RM, SIN, SI88, SI1, SI2, IN73, MN78, SISN2 Series

Belt alignment switches

Emergency Stop Devices: SEU 2, SEU 3 / 4, SRO, SRM, SR Series

Safety Evaluation Device: SCR, SCR DI, SCR P Series

Analog Switching Modules

AS-Interface (Actuator Sensor Interface) products: ASI series





For more Bernstein products, click here