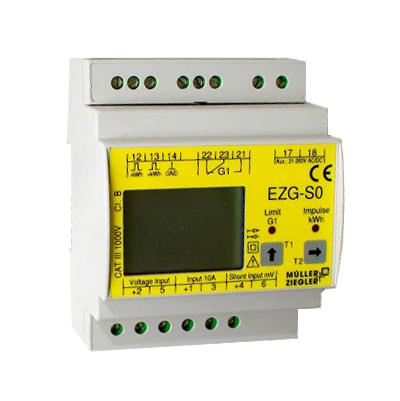 Energy meter for Three-phase current EZD-S0 80 Muller Ziegler Vietnam
Application
Energy meters of types EZW and EZD are meters for transformer and direct connection. The devices for transformer connection may only be operated together with external current transformers. They serve for detecting the import or export active energy and instantaneous active power in alternating current or three-phase current power systems. It may be measured in installations with oscillation package controls (intermittent current conumption) as well as with distorted sine wave. Their application covers industrial plants, workshops, machines, offices etc, and are designed for snap-on fastening on 35 mm top hat rails.
Type and function
Using the energy meters types EZW and EZD for import and export power, the electrical energy as well as the active power in alternating current or three-phase current grids with same or any load may be measured. The electronic energy meters are equipped with two
S0 pulsed outputs, one analog output as well as a two-line resettable LCD display. The pulsed outputs may be adjusted with a valence of 1 to 25000 pulses/kWh. The energy meters have the accuracy class B pursuant to DIN EN 50470-3. A maximum of 40 different primary currents of external current transformers from 5 A to 4000 A may be adjusted or also directly be measured up to 63 A.
The analog output for the active power of 20 mA is galvanically isolated and programmable for the instantaneous active power of import (+P) or export (-P) or import and export (+/-P) current. The accuracy amounts to 0.5% referred to the full scale. Electronics are mounted in an shock-resistant housing from Noryl. The housing dimensions comply with DIN 43880 for built-in equipment for electrical installations.
Special features
S0 pulsed outputs for active energy (import and export)

Analog output for active power 0-20 mA or 4-20 mA

Display and storage of active energy (import and export)

Display of active power

Resettable kWh meter with return stop

Selectable current transformers

Direct connection via through-holes, max. 63 A

Selectable valence of pulses/kWh

Accuracy class B pursuant to DIN EN 50470-3

LEDs for function indication

Slim design, housing width 71 mm

Sealable operating panel
Mueller+Ziegler Energy meter for Three-phase currentProduct list:
Energy meter for three-phase current for current transformer connection, secondary 1/5A. (additionally with 20mA analog output)
Energy meter for three-phase current for direct connection up to 80A (additionally with 20mA analog output)
Energy meter for three-phase current for current transformer connection, secondary 1/5A, with Ethernet interface
Energy meter for three-phase current for direct connection up to 80A with Ethernet interface
ANS là đại lý phân phối chính hãng Mueller Ziegler VietNam chuyên cung cấp sản phẩm Mueller Ziegler
Báo giá ngay - Hàng chính hãng Germany - Bảo hành 12 tháng - Tư vấn hỗ trợ kỹ thuật 24/7