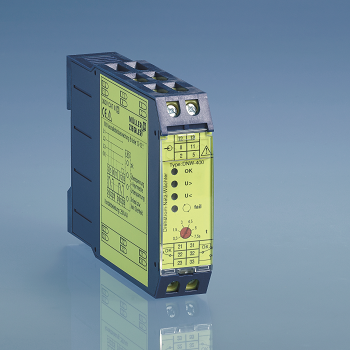 Measuring transducers DIw-MU Muller Ziegler Vietnam
Application
Measuring transducers are designed for the conversion and galvanic isolation of varied measuring signals in heavy-current and weak-current engineering. The input variable is converted to a proportional output signal to standard values of e.g. 20 mA and (or) 10 V.
A frequency or pulse output is possible as well. Measuring transducers are indispensable where measuring values must be transmitted over long distances or at different locations for indication and evaluation.
Type and function
The output signal is an impressed direct current and (or) direct voltage; it is nonsensitive to interference signals, external magnetic fields as well as to distortion due to signal lines of varying lengths. Within the load range, the accuracy remains uninfluenced by different internal resistances of individual or also several evaluation instruments, like e.g. switchgear and measuring devices, controlling equipment, recorders, PLC systems etc. (when using both outputs simultaneously, the max. current which may be supplied to the voltage output is 1 mA, connecting both outputs is not permissible). In case of most measuring transducers, an auxiliary voltage is generated from the measuring voltage, an additional auxiliary voltage ist not required.
Measuring transducers have a fully electronic design and dispose of no mechanical parts; they are thus largely immune to environmental influences and suited for use under rough operating conditions.
Special features of Mueller+Ziegler Measuring transducers
Simple installation, no programming required

Accuracy class 0.5

Analog (continuous) measurement

Analog output immune to noise

Setting option of zero point and span from front side

Double output

Calibrated double output switchable at the front using switch between 0-20 mA / 0-10 V and 4-20 mA / 2-10 V for transducers for direct current variables, rms value, process parameters and operands.

To be combined with frequency output and relay module

4 kV test voltage, also in case of DC auxiliary voltage between input, output and auxiliary voltage

All transducers also with auxiliary voltage for 36-265 V AC + DC or 6-30 V AC + DC and 4 kV test voltage

Small design (22.5 mm housing width)
Mueller+Ziegler Measuring transducers Product ranges:
| | | |
| --- | --- | --- |
| No | Code | Desription |
| 1 | DIw-MU | Measuring transducers for alternating current (sinusoidal) for direct connection up to 50 A , 60 A, 100 A or 150 A |
| 2 | Iw-MU | Measuring transducers for alternating current (sinusoidal) to current transformer and direct measurement 1 A or 5 A or 10 A |
| 3 | Uw-MU | Measuring transducers for alternating current (sinusoidal) |
| 4 | Ieff-MU / Ueff-MU | Measuring transducers for current and voltage (True RMS) |
| 5 | IeffT-MU / UeffT-MU | Measuring transducers for current and voltage (True RMS) for systems up to 1000 V (CAT III) |
| 6 | F-MU | Measuring transducers for frequency |
| 7 | Phwd-MU | Measuring transducers for phase angle (power factor) |
| 8 | Pw-MU, Pz-MU, Pnz-MU, Pd-MU, Pdr-MU | Measuring transducers for active power of alternating current and three-phase current |
| 9 | PwB-MU, PzB-MU, PnzB-MU, PdB-MU, PdrB-MU | Measuring transducers for reactive power of alternating current and three-phase current |
| 10 | MFPw-MU, MFPz-MU, MFPnz-MU, MFPd-MU, MFPdr-MU | Measuring transducers for active power at medium frequencies (frequency range DC/10 Hz – 20kHz) |
| 11 | Multi-E4-MU | Universal transducers with Ethernet interface with HTTP, TCP/IP, Modbus TCP protocol with 4 configurable analog outputs |
| 12 | Multi-E11-MU | Universal transducers with Ethernet interface with HTTP, TCP/IP, Modbus TCP protocol with 11 configurable analog outputs |
| 13 | Multi-E-MU | Universal transducers with Ethernet interface with HTTP, TCP/IP, Modbus TCP protocol with 2 limit or pulse outputs |
| 14 | PGs-MU | Measuring transducers for DC power |
| 15 | PGsT-MU | Measuring transducers for DC power for systems up to 1000 V (CAT III) |
| 16 | IgT-MU, UgT-MU | Measuring transducers for direct current and direct voltage |
| 17 | IgTT-MU, UgTT-MU | Measuring transducers for direct current and direct voltage for systems up to 1000 V (CAT III) |
| 18 | NgT-MU | Measuring transducers for standard signals with selectable calibrated inputs and outputs |
| 19 | NoH-MU | Measuring transducers for standard signals without auxiliary energy |
| 20 | Pt-MU | Measuring transducers for temperature (resistance thermometer) |
| 21 | Th-MU | Measuring transducers for temperature (thermocouple, to DIN EN 60 584) |
| 22 | W-MU | Measuring transducers for resistance teletransmitter |
| 23 | TSM-MU | Measuring transducers for process variables, parametrisable by USB |
| 24 | DMS-MU | Measuring transducers for pressure transmitter (with 4-arm strain gauge full bridge) |
| 25 | D-MU | Measuring transducers for speed |
| 26 | Sum-MU | Measuring transducers for displaying sum values |
ANS là đại lý phân phối chính hãng Mueller Ziegler VietNam chuyên cung cấp sản phẩm Mueller Ziegler
Báo giá ngay - Hàng chính hãng Germany - Bảo hành 12 tháng - Tư vấn hỗ trợ kỹ thuật 24/7