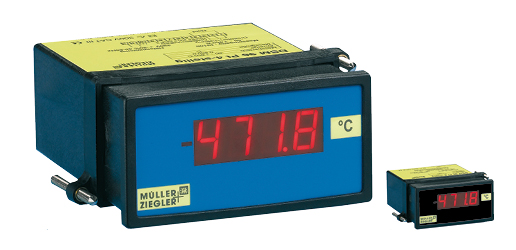 Digital panel meter DSM 9648 Muller Ziegler Vietnam
Application
Digital panel meters are used for the display and monitoring of various measuring signals in heavy-current and weak-current technique as well as different process variables. Our digital measuring instruments may directly be used for current, voltage, frequency, resistance or temperature measurements.
Furthermore, a measured value may be displayed in a switch room over larger distances using an upstream measuring transducer. Digital indicators may be applied everywhere where increased accuracy is required and reading errors are to be avoided.
Type and function
The digital measuring instruments are distinguished by 4-digit and 5-digit types according to their display capacity. In case of a 4-digit display, the largest presentable value is 9999, in case of a 5-digit display that value is 99999.
The values are shown in a 7-segment LED display. The front panel may be marked in a customer-specific or order-specific manner.
Also, the zero point may be elevated or suppressed. A maximum of two limit values may be monitored, the minimum and maximum measured value may be stored and displayed.
Decimal points, dark switching of the last digit, zero point as well as display range may be changed after removing the front panel.
Special features
DSM 9648
high accuracy of up to 0.1 % +/- 1 digit of measured value

auxiliary voltages for 230 V AC, 24 V DC, 36-265 V or 6-30 V AC + DC are available

4 kV test voltage between measuring input and all available auxiliary voltages
DSM 9624/4824
high accuracy up to 0.1 % +/- 1 digit of measured value

min.-/max.-value recording

adjustable support points

display flashing at limit value exceedance/undershooting

tara-function
Mueller+Ziegler Digital Panel meter - Product list
Products

Type

Description

Meter Without limit values

DSM 96 4-digit

Digital measuring instruments 4-digit, 96 x 48 mm, for direct and alternating current (True RMS)

DSM 48x24mm and 96x24mm, 4-and 5-digit

DSM 9624 N / DSM 9624 A/V DSM 4824 N / DSM 4824 C

DSM 9624 C

Digital measuring instruments for direct current and direct voltage

DSMF 96 4-digit

Digital measuring instruments 4-digit, 96 x 48 mm, for frequency

DSM 96 Pt 4-digit

DSM 96 W 4-digit

Digital measuring instruments 4-digit, 96 x 48 mm, for temperature and resistance

DSM 48x24mm and 96x24mm, 4-digit

DSM 9624 Pt, DSM 4824 Pt, DSM 9624 W, DSM 4824 W

Digital measuring instruments for temperature and resistance

Meter With limit values

DSMG 96 4-digit

Digital measuring instruments 4-digit, 96 x 48 mm with two configurable limit values for direct and alternating current (True RMS)

DSMG 96 W 4-digit

DSMG 96 Pt 4-digit

Digital measuring instruments 4-digit, 96 x 48 mm with two configurable limit values for temperature and resistance
ANS là đại lý phân phối chính hãng Mueller Ziegler VietNam chuyên cung cấp sản phẩm Mueller Ziegler
Báo giá ngay - Hàng chính hãng Germany - Bảo hành 12 tháng - Tư vấn hỗ trợ kỹ thuật 24/7