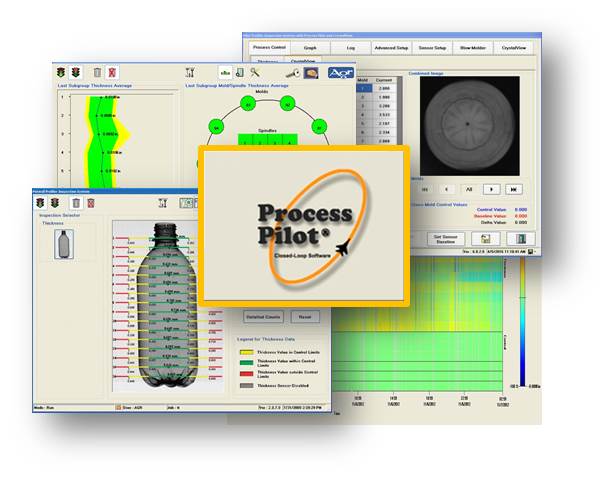 Total process control and quality management for PET containers
The Agr Process Pilot family of products offers a total process and quality control program for PET containers. This powerful combination of thickness distribution management, automated blowmolder control, material orientation optimization and random defect detection provides an un-matched set of tools that can significantly improve operational efficiencies on a 24/7 basis, while improving product quality and increasing profitability.
The Process Pilot approach is based upon three fundamental concepts:
Measure – via Agr's Pilot Profiler measurement system, measure every bottle to monitor and identify on-going changes in material distribution.
Control – via Process Pilot closed-loop control software, proactively manage the blowmolder settings based on thickness measurements to maintain desired material distribution and produce consistent, high quality bottles throughout a production run
Optimize – via CrystalView, optimize material orientation for maximum bottle performance qualities through effective management of the processing temperature
Agr's Pilot Vision system further expands blowmolder process and quality management capabilities by incorporating vision-based inspection in conjunction with the Process Pilot blowmolder management system.
==================================================================
ANS is a genuine agent of AGR in Vietnam
Instant quote - Genuine product - 12 month warranty - 24/7 technical support consultation