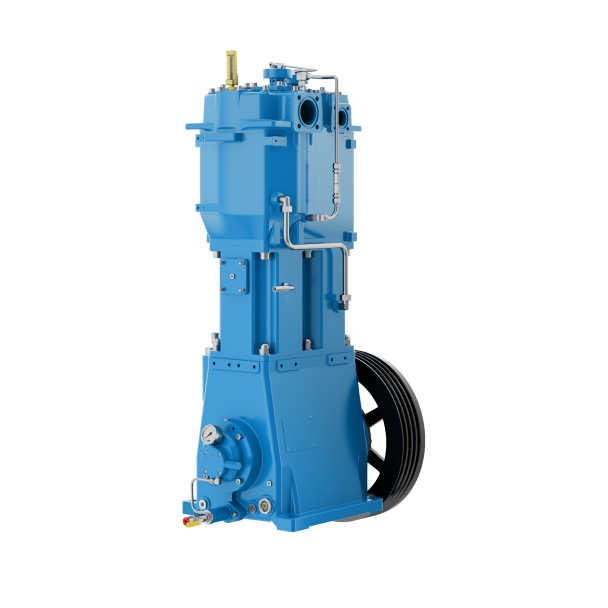 ABOUT MEHRER:
As a Swabian company in mechanical engineering, our cornerstones are precision and innovation combined with a lot of commitment and passion. Decades ago we did pioneering work with our dry-running compressors in cross-head design and are the world's leading manufacturer of oil-free reciprocating and diaphragm compressors. Today we use our many years of know-how in dealing with a wide variety of gases in order to offer sophisticated solutions for your special application down to the last detail.
TWO-STAGE, WATER-COOLED COMPRESSORS MEH - MÁY NÉN LẠNH MEHRER:
TZW 50, TZW 60, TZW 70 Máy nén Mehrer - Compressors Mehrer TZW
TZW 50, TZW 60 and TZW 70 are two-stage, water-cooled compressors. These products are used in the sectors Food & Beverage as well as Machine Construction and are developed for all oil- and silicone- free applications. Mehrer's vertical compressor design is space saving. The TZW 50, TZW 60 and TZW 70 Mehrer can be operated with pre-pressure and frequency controlled working speed.
The most important advantages:
• 100 % oil-free compression without the use of filters
• Water-cooled
• Low maintenance
• Durable
• Efficient
• Robust
• Risk assessment according to DIN EN ISO 12100
Model series Features


TZW 50

2-stage, single-acting

TZW 60

2-stage, single-acting

TZW 70

2-stage, double-acting

Max. compression ratio per stage

1 : 5.5

1 : 5.5

1 : 5.5

Max. suction pressure

9 bara

9 bara

9 bara

Max. final pressure*

27 bara

23 bara

23 bara

Stroke volume per 1 crank revolution

3 604 ccm

6 652 ccm

11 426 ccm

Max. drive power on the shaft

15 kW

37 kW

55 kW

Speed range

400 - 710 rpm

380 - 725 rpm

380 - 725 rpm

Arrangement of the cylinders

Series

Series

Series

Type of drive

Belt driven

Belt driven

Belt driven

Compression of toxic and flammable gases

Possible

Possible

Possible

Compressor cooling

Water-cooled

Water-cooled

Water-cooled
* Relieve pressure safety valve, operating pressure max. = 0,9 x max. final pressure
CYLINDER BLOCK: Due to the modular design of the cylinder block, the compressor can be adapted according to its compression requirements.
LANTERN: The lantern is the key to oil-free compression.
CRANK GEAR: Our extremely robust crank gear ensures high availability of the system through the crosshead design.
GAS GLAND: This assembly separates the gas section of the compressor from the drive section. It prevents gas from the compression space from getting into the lantern. The gas gland is designed according to the application.
LEAKAGE AND PURGE GAS CONNECTIONS: Due to the built-in connections, the compressor can be purged with inert gases. This allows also corrosive gases (e.g. high H2S content) to be compressed.
Xem thêm nhiều sản phẩm Mehrer tại đây!
Liên hệ ngay với chúng tôi để biết thêm thông tin về sản phẩm Mehrer máy nén lanh Mehrer
Hotline: 0911 47 22 55
Email: online@ansgroup.asia