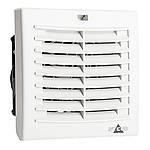 Đại lý STEGO Vietnam,Filter fans & Filter fan plus FPI/FPO 018 STEGO Vietnam,STEGO Vietnam
Cooling
Extreme high temperatures in enclosures and switch cabinets may cause malfunctions of electrical and electronic components. Our filter fan range, roof filter fans and further ventilation products prevent an overheating and the impairment of installations reliably.
Very low noise
Minimal depth in enclosure
Functional design
Time-saving installation
UV resistant
FPI 018 – Filter fan plus

FPI 118 – Exit-Filter

FPO 018 – Filter Fan Plus

FPO 118 – Intake Filter

FM 086 - ilter Mat

RFP 018 - Roof Filter Fan

REP 118 - Roof Exit Filter

RFF 018 - Roof Filter Fan

REF 118 - Roof Exit Filter

LE 019 - High-Performance 19" Fan Tray

SJ 019 -STEGOJET

CF 019 - Circulating Fan Kit
The hose-proof, it is used for protection against water projected by a hose and extreme climatic influences if located outdoors or in industrial applications with harsh environmental conditions. In order to clean the filter fans or to change the filter mat, the hood can easily be removed, the cabinet does not need to be opened (safety risk).
Increase of protection class
Easy to clean
Filter mat change from outside
Impact-resistant, robust
Safe against unauthorized removal
Weather resistant
Versatile
Protective gridand UV resistant
Anh Nghi Sơn là đại lý chính hãng STEGO Vui lòng liên hệ để được tư vấn chi tiết về sản phẩm.