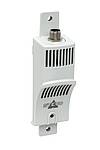 Đại lý STEGO Vietnam,Monitoring CSS 014 STEGO Vietnam, STEGO Vietnam
Condition monitoring is a major part of predictive maintenance, not only in enclosures and switch cabinets but in a variety of applications. It offers a method of addressing an occurring problem within a working system, before it may actually develop into a major failure or malfunction of equipment. The basis of condition monitoring is to register physical data permanently or at regular intervals. SMART SENSORS record temperature and humidity among other parameters, and convert the measured data into analog or digital signals.
Anh Nghi Sơn là đại lý chính hãng STEGO Vui lòng liên hệ để được tư vấn chi tiết về sản phẩm.